Click the boxes below for more details about our services.
The Cloud & Colocation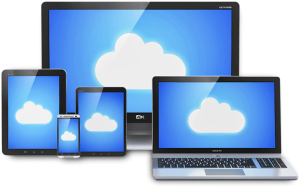 Cloud computing is leap years beyond traditional COLO or Colocation hosting options. Cloud computing is sold on demand in a "utility model", typically on a per "user" or per "seat" basis. It is also highly "elastic", meaning you can easily scale up or down as needed. This works especially well for seasonal vertical markets, such as retail and the Hotel and Lodging industries. It also works exceptionally well for companies that have traveling sales people and executives. It truly allows executives and sales people to be 100% mobile with all of their business data at their fingertips at a moment's notice. It empowers your staff to quote faster, sell faster and collect faster. The bottom line, the three aforementioned items are the majority of your bottom line. Resolution to customer issues can happen now rather than later. Cloud computing can assist in providing a better experience for your customers. As business leaders you know the golden rule, if you do not take care of your customers, someone else will.
Cloud services are typically fully managed by the provider and eliminate the need for large capital expenses of upgrading licenses and servers. With the pace technology is growing the former model of a server lasting 5 years is over. Just think about the advancements we have seen in the last year. I have more data on my iPhone today than I had on my entire computer last year. Cloud is not for every company but chances are your business will run better and more efficiently with the cloud than it will without it.

Colocation Services – "Cloud Computing" seems to be the newest latest greatest technology. In fact, this technology is over 20 years old. Until recently this technology was reserved for Fortune 5000 companies. C3 Communications brings this technology typically reserved for Fortune 5000 companies to the small to medium business. Small business by definition; companies public or private that generate less than $100 million in annual revenue. Everything in business is about data, and to be viable, a company must have the data center and infrastructure capabilities to easily connect, access and manage its data. The inability to adequately access data by employees or customer can cost millions today. This need is not going away. It is becoming more mission critical on a daily basis. We work on customizing Cloud Computing and Virtualization solutions utilizing VM Ware, MS, IBM AIX, Linux, XEN APP and XEN DeskTop. At C3 we are committed to staying ahead of the technology curve to give all of our clients the competitive edge to compete in the Global Market Place. It is reflected in our product portfolio and the proven cutting edge cost effective solutions we provide to our clients. We specialize in redundant WAN Access to your mission critical data utilizing MPLS over; T-1, DS3, Ethernet and more complex VPN networks.
How much revenue would your company lose if your employees or clients could not access critical data?
What degree of accessibility do you want to allow in your data protection plan?
How much does complete data protection actually cost?
Which data is considered mission critical, and which is non-critical?
Is your company prepared for a natural disaster, or a cyber attack?
Do you have a seamless way to access backup data in an everyday equipment failure?
C3 offers many data center solutions for clients seeking the most efficient, reliable, and cost-effect ways of storing, accessing, and backing up their business's data. We work with your team to source and implement the connectivity and bandwidth solutions…when they need it most…10 minutes ago.